Science fiction/fantasy author Ray Bradbury needs no introduction. This forever creative and imaginative writer has penned tales which both excite and fascinate – especially his chronicles of Mars, including "The Strawberry Window," "The Blue Bottle," "The Messiah," and "Night Call, Collect." Adapted by Charlie Mount and Jeff G. Rack, a few of Bradbury's writings have been gathered together to give the audience a taste of one of a twentieth century great.
An energetic and compelling Charlie Mount, both creator and performer, immediately takes on the mantle of Bradbury. A professional illusionist, actor, and talented author himself, Mount breathes life into his role as Bradbury. Dotted with real life facts about Bradbury – coupled with tidbits from some of his best known works – MARTIANS reveals the heart and soul of a writer who finds every detail in life gripping and grist for his writing mill. Under the guidance of co-creator/director Jeff G. Rack, Mount and Rack capture the essence of Bradbury with the able assistance of an ensemble cast as they dig into the literary life of this author extraordinaire.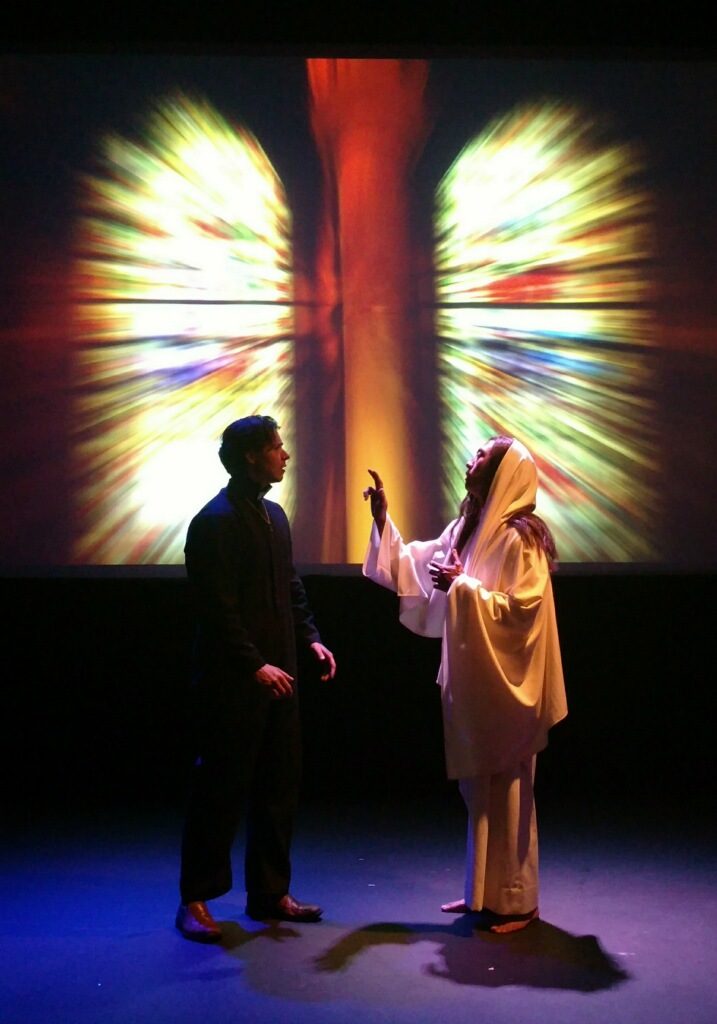 MARTIANS brings Bradbury's characters to life. Characters like Bob (Michael Perl) and Carrie (Melissa Lugo), young colonists struggling to bring the dead Mars back to life, and Emil Barton (Richard Mooney as young Barton and Don Moss as old Barton), the last man on Mars with only recordings of his young self to keep him company. Add to that Beck (Paul Gunning) and Craig (Joe Seely), two soldiers of fortune searching for the invaluable Martian blue bottle, and Father Niven (Eric Keitel), who turns a shapeshifting Martian into Christ.
MARTIANS is chock full of special effects, striking lighting, and video design to bring even more creativity into the stories. Production crew members Jeff G. Rack (production design), Joseph Slawinski (sound design/original music), Gabrieal Griego (projection design), Derrick McDaniel (lighting design), Judi Lewin (Martian wig and hair), Christine Zirbel (costume construction), and William Hill (fight choreography) shine brightly in MARTIANS. In fact, their efforts rival the tales being told.
MARTIANS is a well-deserved homage to Ray Bradbury, who died only a few years ago. The beginning and ending of the production are captivating. However, the show appeared to lag in the middle, perhaps too lost in the details of the Martian experience. This reviewer couldn't help but wish that the focus had stayed on Bradbury and his extensive range of writings (as it did in the introduction) rather than primarily on his Martian material. Nonetheless, this is an appealing and attention-grabbing collection which is truly a multi-media production.
MARTIANS runs through November 2, 2018, with performances at 8 p.m. on Fridays and one performance at 8 p.m. on Saturday, November 10. The Whitefire Theatre is located at 13500 Ventura Blvd., Sherman Oaks, CA 91423. Tickets are $30 ($20 students and children). For information and reservations, call 800-838-3006 or go online.