Mercury Theater Chicago is currently presenting Howard Ashman and Alan Menken's musical LITTLE SHOP OF HORRORS through Sunday, June 30th on its main stage at 3745 N. Southport, Chicago.
This iconic and beloved hit sci-fi musical has an "electrifying" 1960s pop/rock score, and is based upon a Roger Corman film from the 1960's that starred a young Jack Nicholson. Directed by L. Walter Kearns, and featuring musical direction by Eugene Dizon, lighting design by Kristof Janezic, sound design by Carl Wahlstrom, costume design by Serena Sandoval, and scenic design by Alan Donahue, with puppets designed by Martin P. Robinson and choreography by Christopher Chase Carter, the engaging production tells the story of "a neighborhood of lovable losers."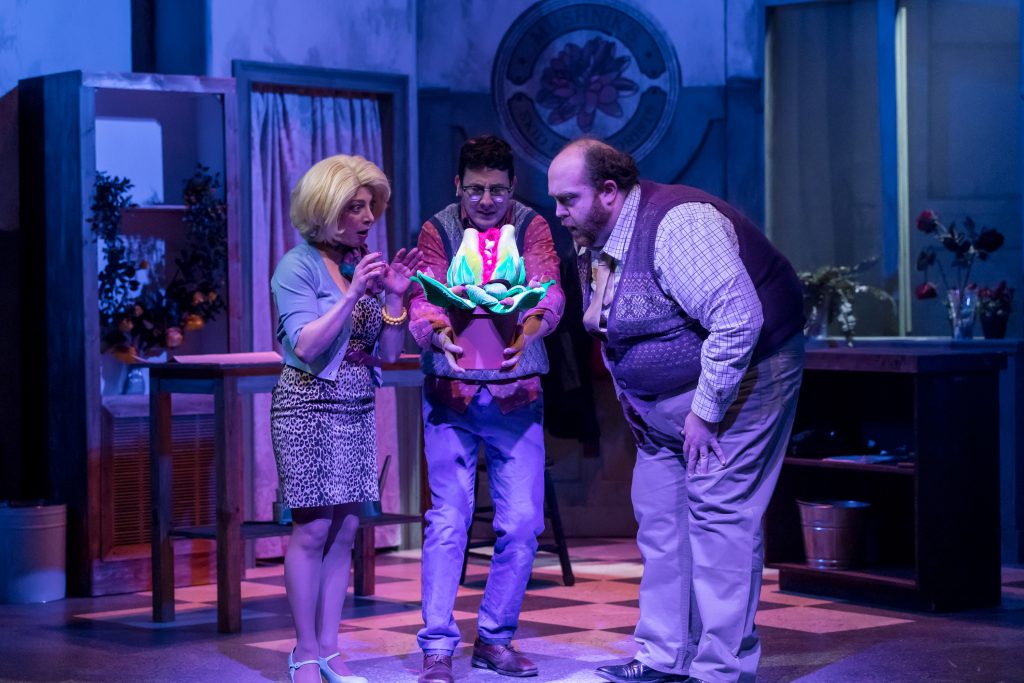 Seymour Krelborn is a meek and dejected assistant at a floral shop who happens upon a strange plant, which he affectionately names "Audrey II" due to his deathless love for Audrey, who also works at Mushnik's Flower Shop, in a dreary and run-down neighborhood. Audrey's sinister boyfriend, Dr. Orin Scrivello the dentist, is physically cruel to her as well as to his patients and she is ashamed of herself. Seymour's discovery of the miraculous plant with the soulful R&B voice and toilet mouth wins the shop immediate fame and lots of business, and wins Seymour the status of "son" to Mushnik and first the notice and then the love of Audrey.
However, the plant has an unquenchable thirst for human blood, and like a massive Venus Flytrap, devours all and sundry as it grows to immense proportions, demonstrating extra-terrestrial origins and his true drive for world-domination.
Kearns has engineered this often produced favorite into a highly enjoyable and lively show, highlighting the be-bop music, the wacky sci-fi elements, the strongly delineated personalities, and not missing an emphasis on the underlying moral/societal admonitions central to the story. Careful casting generates a watchable ensemble and memorable featured characters.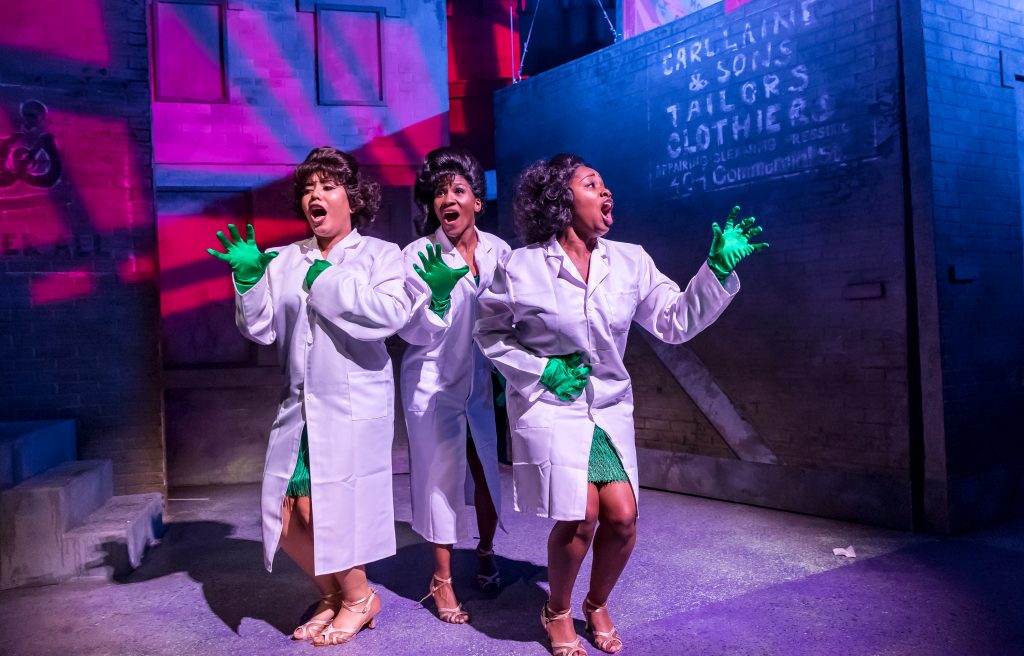 Featuring Christopher Kale Jones as the decent, genial and highly credulous Seymour; Dana Tretta as the abused platinum blonde Audrey; Sam Woods and A.D. Weaver as The Plant Puppet and it's Voice; Nicole Lambert, Adhanna Reid and Shantel Cribbs as the fine song and dance trio Crystal, Ronnette and Chiffon; Tommy Novak as the greedy, loveable nudnik Mr. Mushnik; and David Sajewich as the adorably evil/incredibly versatile Dr. Orin Scrivello and Everyone Else.
Music Director Dizon does a terrific job allowing the trio of hot and provocative singers to produce vocals that build with show-stopping force. It was a wise move to prominently position Lambert, Reid and Cribbs as Chiffon, Crystal and Ronnette in this production as they are a high-spirited delight to watch and hear as they belt out numbers with panache and sashay all over the stage, delightfully fulfilling their function as key narrative relators.
Throughout the show, the singing is of high quality in the ensemble numbers from the opening, Skid Row, in which the cast and choreographer Carter herald a level of competence that is later fulfilled and even exceeded.
Tretta, in the role of Audrey, is a powerhouse singer and offers a hilarious and touching rendition of Somewhere That's Green. Playing opposite her, David Sajewich as hateful antagonist Orin Scrivello is smarmy and convincingly awful; he does a stellar job with his drill and lyrics in Dentist. Christopher Jones as Seymour is a fine earnest nerd who performs a lusty duet of Suddenly Seymour with Tretta's Audrey, with outstanding backup by the trio.
The production values are simple, strong and relevant. Donohue's set is charming and detailed, Wahlstrom's sound quality is particularly fine; you can easily hear and comprehend Ashburn's funny lyrics. Janezic's lighting design is clever and the special effects required in Little Shop, including Robinson's puppets, are achieved with panache. Sandoval's costumes are kitschy and really fun, particularly the many and varied outfits worn by the trio. Carter's choreography was especially appreciated; this is not a huge stage, it was full of people and props, and yet there was room for big moves and energetic stepping.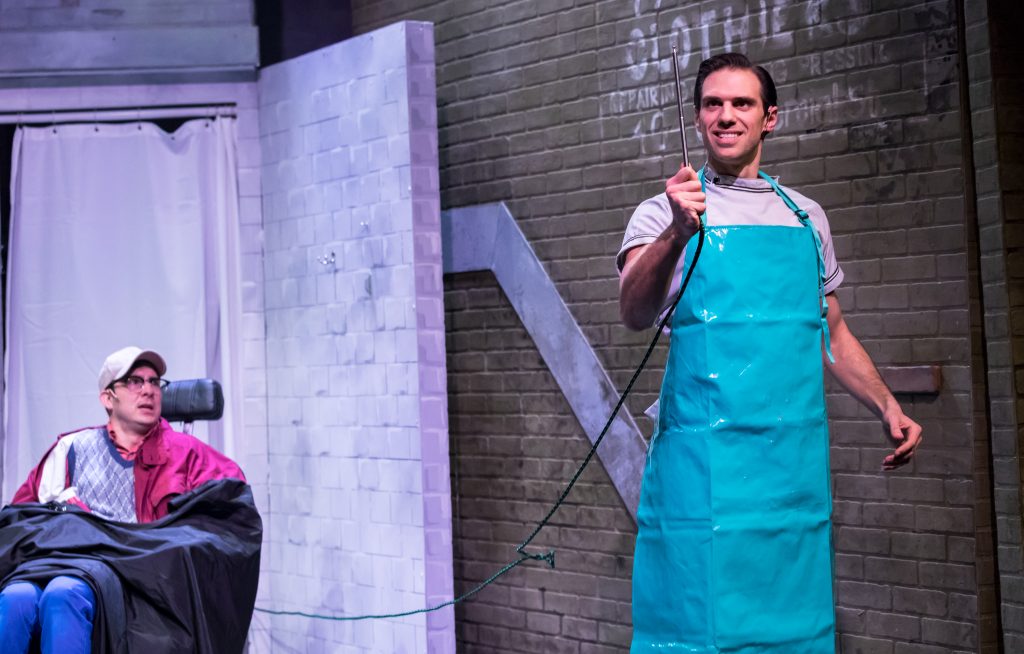 For information and tickets to all the fine shows at Mercury Theater Chicago, go to www.MercuryTheaterChicago.com
All photos by Brett Beiner