HydroPeptide Sleep Prettier
Mother's Day is all about spoiling mom and you can never go wrong with beauty products that give her a little extra pampering this Mother's Day. A trusted professional-level beauty brand, HydroPeptide boasts collagen boosting peptide focus products with results rival that of plastic surgeries. Its Sleep Prettier moisture ritual kit is the holy grail overnight restorative treatment for celebrities and beauty gurus alike. Featuring hydrolyzed milk proteins and royal jelly peptide, this kit is a gentle yet effective treatment that nourish and restores the skin. Perfect for moms who are seeking an update for her night routine.
$149 Buy now!
Seratopical by SeraLabs
Nicole Kidman Partners with Seratopical by SeraLabs as Global Brand Ambassador and Strategic Business Partner. SeraLabs is a health, wellness, and beauty company. Kidman became a proponent of the benefits of topical CBD when she experimented with it on an ankle injury last summer. She will be integral in brand development and messaging. The topical line includes the anti-aging skincare line, Seratopical® and topical ultra-hydrating and pain relief body creams and serums. 
Various Prices Buy Now!
RéGéN De Peau
ReGen De Peau Platinum is an innovative, natural skincare backed by science that disrupts the way you age with powerful treatments of healing, lifting and wrinkle reduction. One product… One application… One minute… Two times daily! ReGen™ features Pene-Fusion 8™ technology that allows the ingredients to live together in an encapsulated form and ingredients to remain active even after the package is opened. It is made up of four ingredient complexes: MDI complex, UGL Complex, BMPX Complex and the organic Japanese Blue Lotus flower extract, known to be a miraculous turnaround in anti-aging. Apply a dime-size portion directly onto your skin, each to the forehead, cheeks, chin, and neck with a firm tapping motion to expedite penetration and energy into the outer layer of your skin. You will experience a cooling, tingling sensation for a few seconds. No additional moisturizers, eye creams, or lip creams are necessary. You can apply any other cream, sunscreen, or makeup, 10 minutes after application. Régén De Peau Platinum hydrates and accelerates skin cell renewal. Protect your skin day and night against free radical damage with this breakthrough Pene-Fusion 8TM technology.  Recent research and development breakthroughs include: Manufacturing and producing the fastest enzymes, combined with the power of peptides, penetrating nutrients and minerals that go deeper than any other product known in skin care. Finding ingredients and developing new products that are proven to optimize the energy of skin cell renewal evenly for laser skin care procedures. The cooling properties of this gel cream formula are enormous for pain relief and post procedure rapid healing. Results that speak for themselves! ReGen De Peau Platinum has more ingredients than any other skincare product with four complex, clinically proven powerful combinations, plus 47 other highly-effective and proven ingredients. We use alkaline pure and mineral-based water – a first in skin formulation! TAP into the Next Generation of unisex, multi-functional, multi-cultural skincare!
Various Prices Buy Now!
EVE LOM Begin & End Dual Pack
A limited edition, innovative dual pack that includes your favorite EVE LOM Icons to reveal your truest, most radiant self. Begin with the first step to radiant skin, our multi-benefit 5-in-1 balm Cleanser to cleanse, hydrate, tone, exfoliate*, and remove all traces of make-up, including waterproof mascara. End with our multi-tasking Moisture Cream, whose next generation Hyaluronic Acid gives a flash filler effect to help noticeably reduce existing and prevent future lines and wrinkles. Cleanser: The first step to radiant skin is our multi-benefit 5-in-1 product the iconic EVE LOM Cleanser. This unique balm formula that contains a unique signature blend of 4 aromatic oils to cleanse, hydrate, tone, exfoliate and remove every trace of makeup. Key Ingredients: Clove Oil, Eucalyptus Oil, Hops Oil, Egyptian Chamomile Oil, Cocoa Butter Moisture Cream: Provide the skin with all it needs in one, luxurious, multi-tasking moisture cream. Next generation Hyaluronic Acid helps reduce lines and wrinkles, protects against the effects of pollution. Key Ingredients: Primalhyal Ultrafiller, Peach Flower, White Horehound Extract, 3D Hydration Booster
$100 Buy now!
Mother's Day Mom & Baby Bonding Set
Select items of our mom & baby line to strengthen the love bond between moms and babies.​ The Mamãe e Bebê Bonding Set Includes: Mamãe e Bebê Head to Toe Liquid Soap, 200ml: The bath, that huge little moment in baby care, further strengthens bonds of love. The vegan formula of this liquid soap and shampoo contains only the essentials to clean baby's hair and body– gently and delicately. ​Mamãe e Bebê Massage Oil, 100ml: A massage can be a time to give and receive love, and help the baby grow more confident, calm and happy. This lightweight vegan oil contains only the essentials to massage the baby's sensitive skin.​Mamãe e Bebê Cologne, 50ml: The baby smell of Mamãe e Bebê cologne conveys love, care and affection. The cologne's vegan formula contains only the essentials for a safe, smooth scent. It contains no alcohol or preservatives, so it does not harm the baby's sensitive skin.​Mom Stretch Marks Oil, 200ml: Moisturizing the skin can be a time for bonding, just like massaging the belly and talking to baby. The vegan formula of the shower oil contains only the essentials to moisturize your skin. Rich in almond oil, improving skin elasticity and aid in preventing stretch marks.​Mamãe e Bebê Baby Wipes, 50 wipes: Changing the diaper is a time to get very close to the baby. The vegan formula of this fragrance-free multipurpose wet wipes contains only the essentials for baby's sensitive skin.
$68 Buy now!
HydroPeptide Lip Lover Kit
For the mama who still has a social life and wants to add a little something extra into their beauty regimen, HydroPeptide's Lip Lover Kit is the perfect gift to accentuate her lips! This kit contains a smoothing and hydrating lip primer formulated with phytosqualane and plumping peptides that lock in the moisture, and the following Perfecting Gloss in Palm Springs Pink is a perfect shade for the warmer weather.
$68 Buy now!
Carrier Freres Love is a Rose
CARRIERE FRERES LOVE IS A ROSE is known for their dedication to the highest quality ingredients, Carrière Frères' offers consumers the classic "Queen of Flowers" Damascus Rose mixed with perennial plant Spearmint and opulent Amber, creating truly one-of-a-kind scent profiles that speak to the brand's thoughtful approach and creative ethos.
LA ROSE AIME LA MENTHE celebrates the surprising union between the Spearmint, deep green perennial plant, and the "Queen of Flowers": the Damascus Rose. Discovered in Turkey, the rose proudly exhibits its exquisite corolla of petals in order to reveal the finesse of its scent. By contrast, spearmint offers freshness with its deep green serrated leaves and cob-shaped pink or lilac flowers. Characteristic from North Africa's souk markets and palaces, it stands out with its exhilarating and subtle scent. When cold, the scent of fresh mint stands out and when warm, the soft perfume of rose prevails.
LA ROSE AIME LA MENTHE known as the "Queen of Flowers", the Damascus rose was praised in Syria for the finesse of its scent and subtle elegance. Celebrated since Antiquity from China to Persia, rose, as a flower, is close to the divine. Also much valued from Antiquity to the present, amber – a fossilized tree resin – is revered for its sacred and opulent scent, as well as its somehow magical healing properties. Between the Damascus Rose's subtlety and Amber's opulence, the marriage is intense: the duo joins for an eternal embrace under the bluish tint of our apothecary flask looking diffuser. The softness of the rose comes here to sublimate the frank opulence of the amber, in a unique and subtle marriage. Both scents are available in a candle ($62) or a diffuser ($80) on CarriereFreres.com for a limited time.
$62 Buy now!
Mother's Day Pampering Castanha Body Set
Four beauty treats to pamper and delight all the amazing people in your life. Featuring nourishing Castanha to hydrate and strengthen skin's natural moisture barrier while delicately perfuming the skin.​ The Pampering Castanha Body Set Includes:Castanha Creamy Exfoliating Soap: Made in the Amazon, this vegetable-based soap contains a blend of pure Brazilian oils, including nourishing castanha oil. Gently exfoliating, it lifts away dry, dull skin with body soothing flax seeds grains and conditions with Vitamin E.​Castanha Nourishing Shower Body Milk: A lusciously versatile in-shower or after-shower moisturizer. Made with a blend of nature's most replenishing moisturizers including 10% castanha oil from Brazil, Almond Oil and cupuaçú butter.​Castanha Body Lotion: A body-smoothing indulgence blended with nourishing Castanha oil for 24 hours of deliciously soft, refreshed skin.​Castanha Hand Cream: A skin-loving vegan cream blended with energizing açaí oil and murumuru butter to treat and soften hands. About Castanha:Known and revered as the Queen of the Forest, the Castanha (or Brazil nut) is found deep in the forests of the Amazon. Endlessly rich in benefits, both medicinal and beautifying, the castanha produces an oil that deeply nourishes and "feeds" skin for intense moisturization.
$52 Buy now!
RÓEN 11:11 Eyeshadow Palette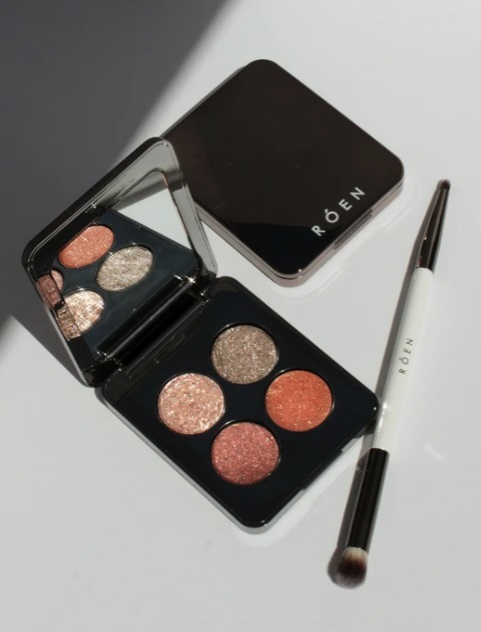 This magical eyeshadow palette is perfect for the makeup novice and the professional. 11:11 Eye Shadow Palette contains four easy to use shades, which are sure to become staples in your makeup routine. Shades are designed to be mixed together or worn alone. Like all RÓEN Beauty products, 11:11 Eye Shadow palette is free from talc, parabens, nano particles and fragrance.
$46 Buy now!
The Idle Free Box
The Idle Free Box inspires creativity and a desire for accomplishment. The activity-based lifestyle subscription is an outlet to get those artistic juices flowing in the comfort of your own home. All supplies are conveniently delivered every other month to your doorstep for your entertainment pleasure. It makes for a terrific bonding experience with family and friends and a date night with a twist of fun.
Bright things are coming out of the pandemic, and this brand is one of them. Founded by a Canadian couple looking for ways to enjoy their free time, it has blossomed into a successful small business that is now finding new fans in the U.S. and selling out boxes.
Imagine not needing to come up with activities to fill the day for you or your kids. The brand is a one-stop-shop for everything you will need to complete new activities and projects. It is a great gift idea as well, plus the items you make can turn into a beautiful handmade present for a loved one.
Includes a variety of activities that arrives at your doorstep every other month, including staple items such as: Workout plan; Yoga sessions with guided meditation; Paint-By-Numbers kit; Jigsaw puzzle; Coloring kit; DIY activity
$45.99 Buy now!
HALO HEALTHY GLOW ALL-IN-ONE TINTED MOISTURIZER
HALO HEALTHY GLOW ALL-IN-ONE TINTED MOISTURIZER BROAD SPECTRUM SPF 25 is primer-powered for all-day wear & a healthy glow. This all-in-one, SPF tinted moisturizer gives you lightweight, natural-looking dewy coverage that hydrates skin for up to 24 hours. It primes, perfects, protects & hydrates in one easy step. The breathable, vegan & oil-free formula is boosted with 81% skin-caring ingredients that moisturize, condition & protect. It has rose extract, hyaluronic acid, niacinamide, goji berries, gold & peptides.
Benefits: Infused with primer for all-day, comfortable wear; moisturizes skin for up to 24 hours; does not strip skin's moisture barrier; SPF 25 for everyday protection against environmental aggressors, sun damage & against future visible signs of aging; oil-free, made for all skin types & won't cause breakouts; sweat & humidity-resistant; won't crease, cake or settle into fine lines. Available in 12 shades: Fair, Fair Light, Light, Light Neutral, Light Medium, Medium, Medium Tan, Tan, Tan Dark, Dark Neutral, Dark, Deep.
$36 Buy Now!
Mother's Day Maracujá Duo Set
Two beauty treats with soothing and hydrating Maracujá to pamper and delight. ​The Duo Set Includes:Maracujá Triple Phase Oil: A luxurious in-shower oil formulated with Amazon Maracujá oil, rich in essential fatty acids, it forms a protective layer on the skin and leaves it velvet soft, naturally radiant and scented with soothing and fruity notes.​Maracujá Hand Cream: A skin-loving vegan cream blended with soothing maracujá oil and murumuru butter to treat and soften hands.​ About Maracuja:Maracujá oil is rich in omega 6 and has emollient properties that help maintain skin moisturization. It adds a light, pleasing texture to body care products and its restorative fragrance is extremely distinctive. The Maracujá seeds are sustainably sourced by more than 800 families from local communities in Amazon.
$30 Buy now!
Merle Norman Cosmetics
Gift the most special women in your life one of Merle's favorite products like Miracol Revitalizing Cream or Cleansing Cream, which continue to be some of the brand's most beloved products. Surprise Mom with with the award-wining Nighttime Recovery Creme or Lasting Cheekcolor in 22 rich shades. And be sure to play up the gorgeous eyes behind the mask with the spectacular Knockout Nudes 2 palette.
Miracol Revitalizing Cream: Delivers deep-cleansing benefits in a luxurious cream; Thick, rich formula applies easily without a brush; Oil-free, Gluten-free; $21.50
Cleansing Cream: Removes the most stubborn makeup while leaving skin clean and comfortable; Rich, oil-based formula won't clog pores; Use with or without water; $28.50
Nighttime Recovery Crème: Helps skin appear less fatigued and stressed for a more revitalized, improved texture; Instantly increases moisture level by 50%, skin retains 87% moisture even after six hours; Increases skin firmness and elasticity by 48% after four weeks; Ophthalmologist tested, Fragrance-free, Oil-free, Gluten-free, Non-acnegenic, Non-comedogenic; $60
Lasting Cheekcolor: Silky powder formula provides stay-true, fade-resistant color that glides on smoothly and blends easily; Leaves a soft, translucent finish; Talc-free, Fragrance-free, Oil-free, Gluten-free; Ophthalmologist tested; Available in 22 shades; $23
Knockout Nudes 2: Features eight versatile mattes and two light-catching metallic; Dermatologist tested, Ophthalmologist tested; Fragrance-free, Oil-free, Gluten-free; $67
$21.50 + Buy now!
L'OR Coffee
Created in France in 1992, L'OR's ambition has always been to offer the best coffee in the world. Since then, L'OR has seduced senses of the consumers by providing them with intense taste experiences for fantastic coffee moments. In 2010, L'OR expanded beyond the French borders with the launch of L'OR Espresso, the first coffee capsule compatible with Nespresso®* coffee machines. Today, the unequalled quality of L'OR coffee continues to seduce connoisseurs all over the world. Every cup of L'OR coffee provides a pure coffee pleasure. Let yourself be captivated by the intense aroma. Discover a balance of its smooth and rich flavours. Discover the L'OR gold coffee standard.
$6.90-$30.50 Buy now!
SOLEIL COLLECTION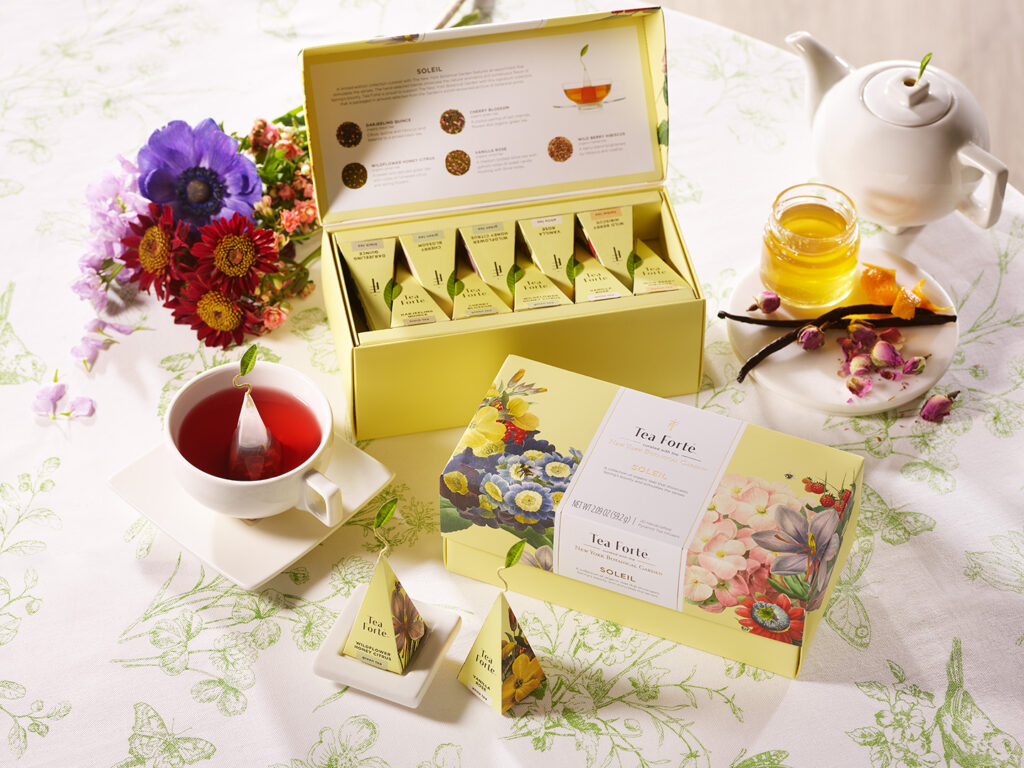 Stimulate your senses with the Soleil Collection, aromatic and sumptuous tea blends packaged in a striking floral homage to spring's bounty. Tea Forté continues its partnership with The New York Botanical Garden® (NYBG), with a third awe-inspiring collection featuring classic artwork from The Garden's archival prints that was inspired by the warmth of the spring sun that nurtures the fruits, flowers, and tea leaves of Soleil. Sales of the Soleil Collection help support NYBG's work in plant research and conservation, horticulture and education. Savor the tea ritual with the alluring and modern blends packaged exquisitely in the Soleil Collection: Darjeeling Quince, Cherry Blossom, Wildflower Honey Citrus, Vanilla Rose and Wild Berry Hibiscus.
Various Prices Buy now!
*Images courtesy of respective companies.